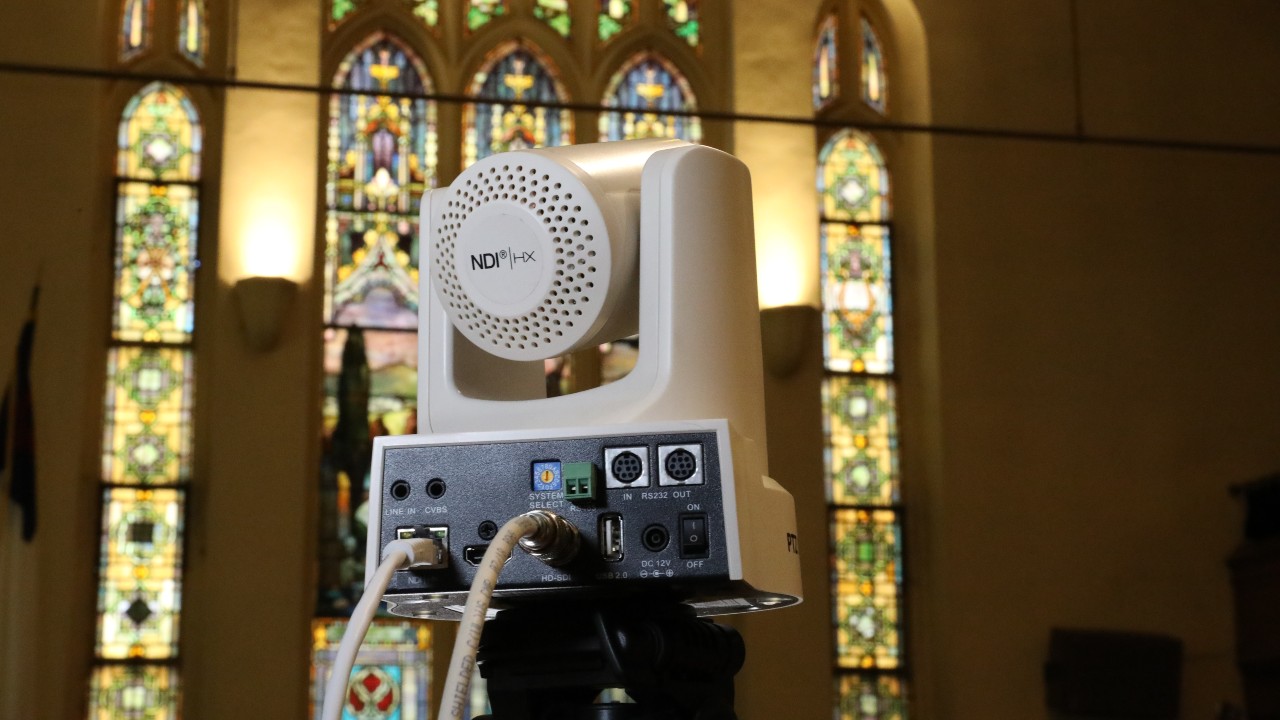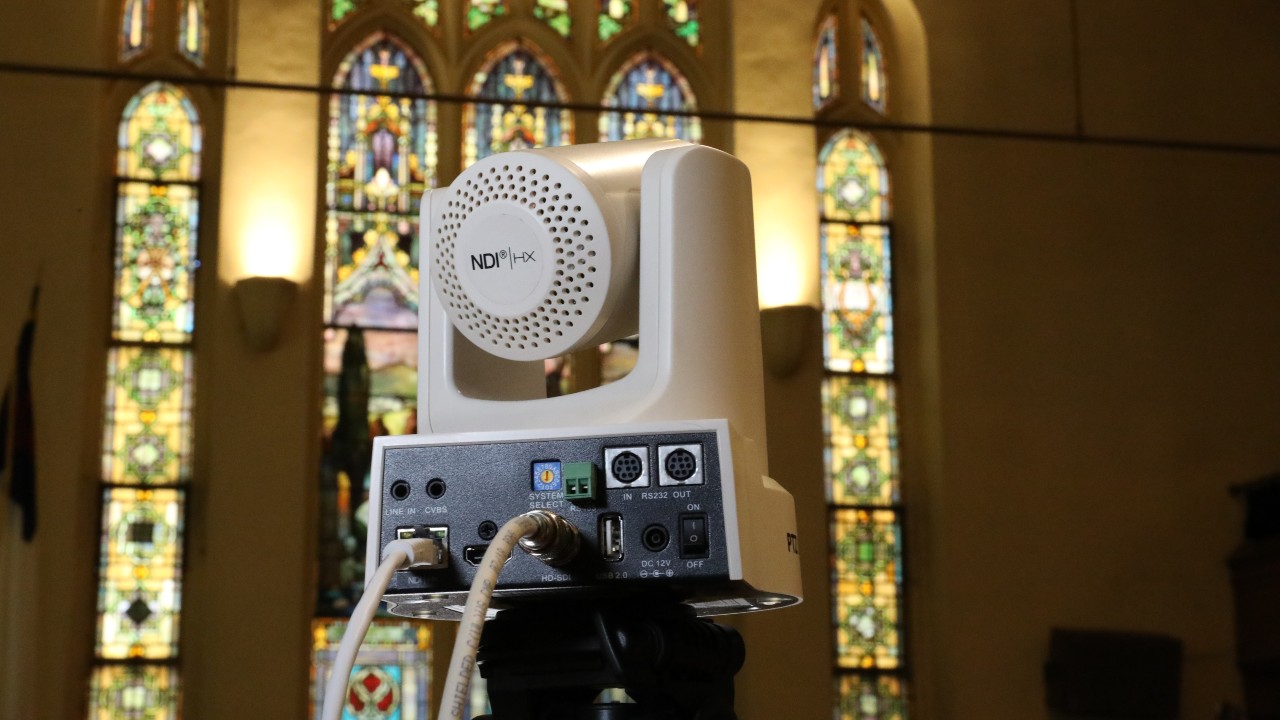 PTZOptics has worked with houses of worship from around the world to help integrate video production and live streaming equipment into sanctuaries. PTZOptics live streaming cameras are ideal for worship sanctuaries because they are small, discreet and remotely controllable. On this page, you will learn about various houses of worship that have set up live streaming equipment in their churches with a variety of goals in mind. Many churches are now live streaming to places such as Facebook and YouTube in order to bring members of their church live videos from their services who cannot attend in person. Paul Richards, the Chief Streaming Officer for PTZOptics, is the author of "Helping Your Church Live Stream" which can be downloaded for free here.
Taking the message of your church outside its physical building and reaching more people is possible now more than ever. Your in-person community can grow and include an even larger online group connected to your church. Anyone who has access to the internet could be part of your congregation. It's about turning the walls of your church into doorways, inviting more people to be a part of your community, whether they are near or far.
Life gets hectic, and there can be many reasons why people might not make it to services in person. Online streaming offers a relaxed way to join in, without any pressure. Some might only come to the church on special occasions, but online streaming allows them to see what's happening in your community from wherever they are. It's a welcoming window into the life of your congregation, and it might even encourage them to attend more regularly in person. It's a bridge that connects people to your community, no matter where they are or how often they can be there physically.
Within a large, historical building, Central Moravian Church wanted to update its AV technologies while creating systems that will remain relevant for years to come. The church's architecture required cameras with a significant optical zoom in order to capture close-up views from long distances. The integration team was asked to maintain the aesthetic look of the space and hide cabling wherever possible.
Live streaming is an effective way to spread the life-changing message of Jesus beyond the walls of the church. Live stream video is a fantastic service for church members who need to be away due to travel or illness. It is also an amazing evangelism tool that allows potential guests an opportunity to experience your church before visiting in person. For some churches, the idea of starting a live streaming ministry can feel overwhelming. Fortunately, using PTZOptics equipment can reduce complexity and make it easy for any church to get started. Learn more about this case study here.
The Move 4K
The Move 4K is the latest PTZ camera from PTZOptics, featuring auto-tracking for a more intelligent video production workflow.
The SuperJoy
Remotely control all of your PTZ cameras with the award winning PTZOptics SuperJoy.
After just two months of live streaming, the Olivet United Methodist Church in Coatesville, Pennsylvania, has been able to connect with church members from all around the world, including some who have moved away, some who were temporarily home-bound, and others who were on vacation. The new live streaming system was in place just before Christmas in 2018. In that time, the church media team has been able to live stream a candlelight service, the 2018 Christmas service, and a special baptism. The live streaming system has connected housebound parishioners like Tori Parker who commented "Glad I can be here, even from my couch as I recover from surgery."
Making Live Streaming Easy for Volunteers
Learn more about this case study here.
See What Our Customers
Are Saying
Our church recently installed the PTZ Optics Move 4K 30X model and it is blowing us away. We are amazed at the image clarity and sharpness. It was a breeze to set up too. This is our first venture into using PTZ cameras and it has been a great experience. This camera gives us so many more angles and options for our live stream. I can't recommend this camera enough.
Josh Sinclair
via Google Reviews
Audio Visual Workflow Example #1
A simple system layout for many houses of worship is the use of NDI with an existing network. In this example, a PTZOptics NDI camera is being used wtih OBS, a free live streaming software.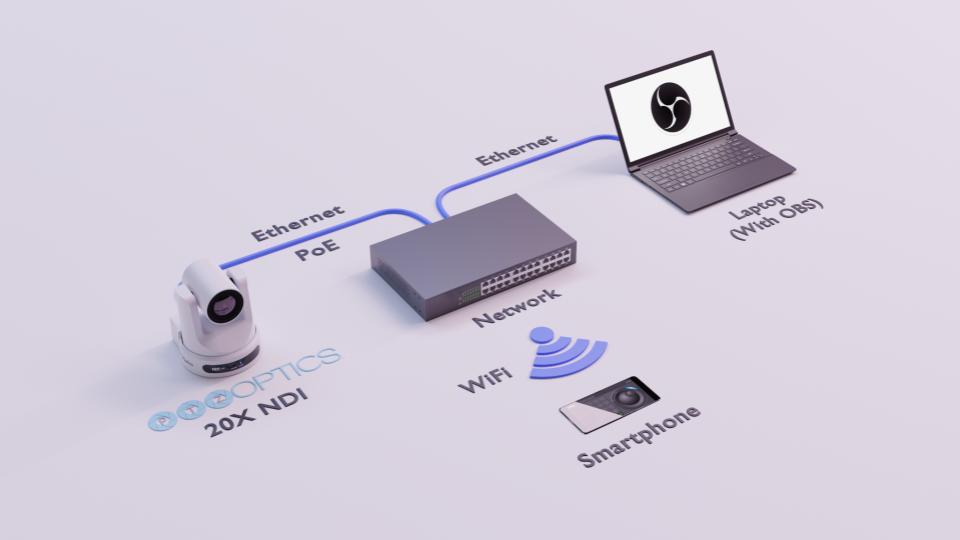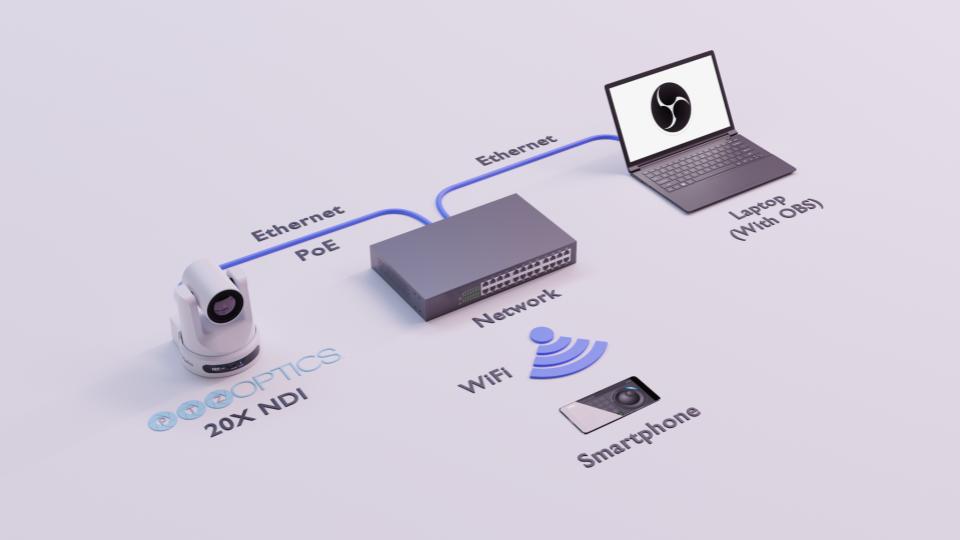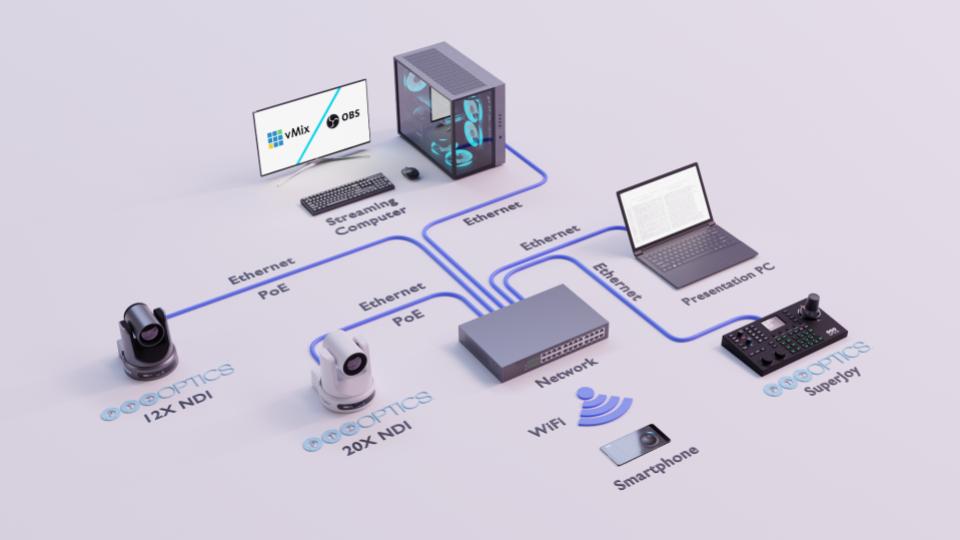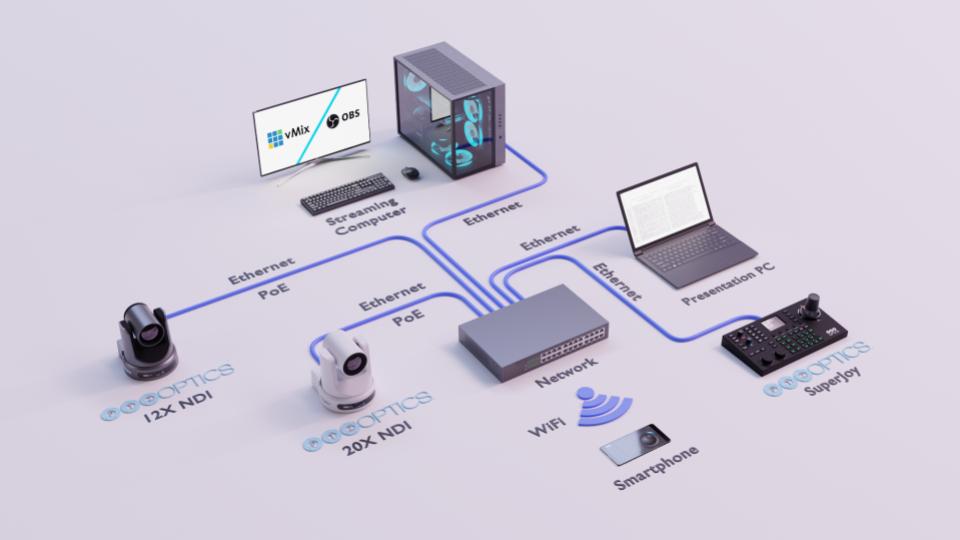 Audio Visual Workflow Example #2
When upgrading to a second or third camera, many churches consider the use a PTZ joystick controller. Also, shown here is the use of a power over ethernet (PoE) network switch used to power each camera. 
Audio Visual Workflow Example #3
Many houses of worship grow their live streaming systems over time. This system features 3 cameras, a joystick controller and multiple computers. Using NDI, this system is able to integrate a graphics system powered by Pro Presenter which is incorporated into the live stream.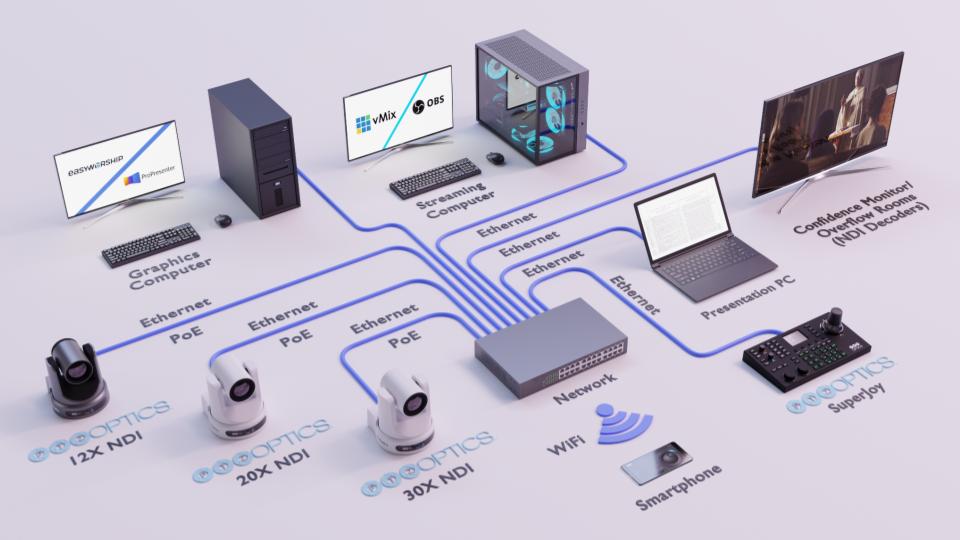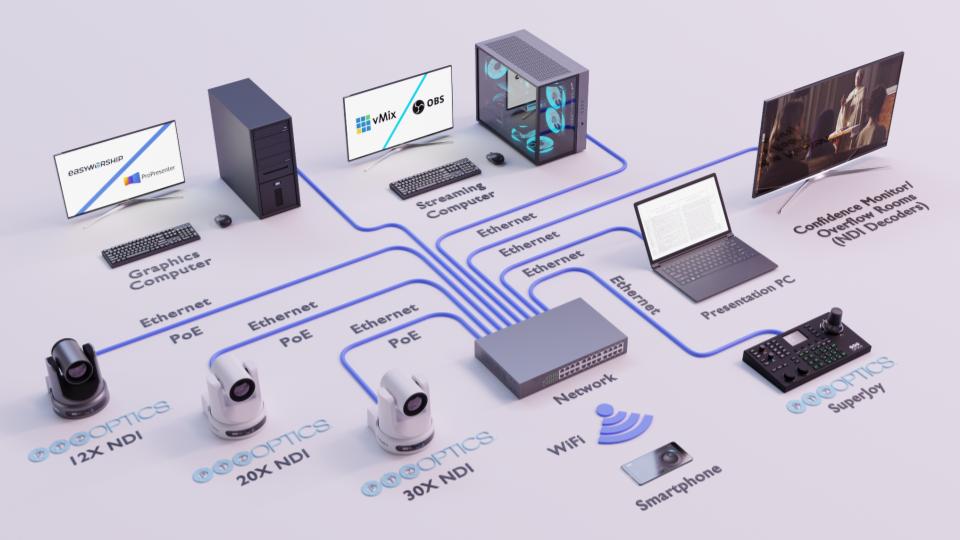 New: PTZOptics Producer Bundles
Producer SE Bundle
With 3 award-winning 20X Move SE cameras, the Producer-SE bundle delivers precision in every shot, even from a distance. Enjoy 1080p clarity, bringing lifelike quality to every frame along with convenient auto-tracking capabilities. Plus, streamline your setup process with the included PT-JOY-G4 IP/serial connected joystick controller.
Producer 4K Bundle
Capture every detail in ultra-high-definition 4K with 3 award-winning 20X Move 4K cameras. Each camera includes our most advanced auto-tracking capabilities and comes native with NDI®|HX for unparalleled performance and versatility. Elevate your production control with the SuperJoy's superior control features, setting a new standard in joystick operations.
The Move SE
Starting at just $999, the Move SE is a perfect camera for your next video project.
The Link 4K
Ready to add video to your Dante setup? With Dante AV-H™ and the latest in auto-tracking capabilities, the Link 4K fits easily into even the most complex Dante design or workflow.
Advanced Feature for Churches that Rock!
From integrated PTZ camera controls inside Ableton (and other DAW software) to MIDI camera control, PTZOptics has worked with our customers to build the integrations that work for House of Worship. 
Read more about this detailed case study here. 
Integrations for your workflow
PTZOptics offers integrations with some of the most popular video tools in the world.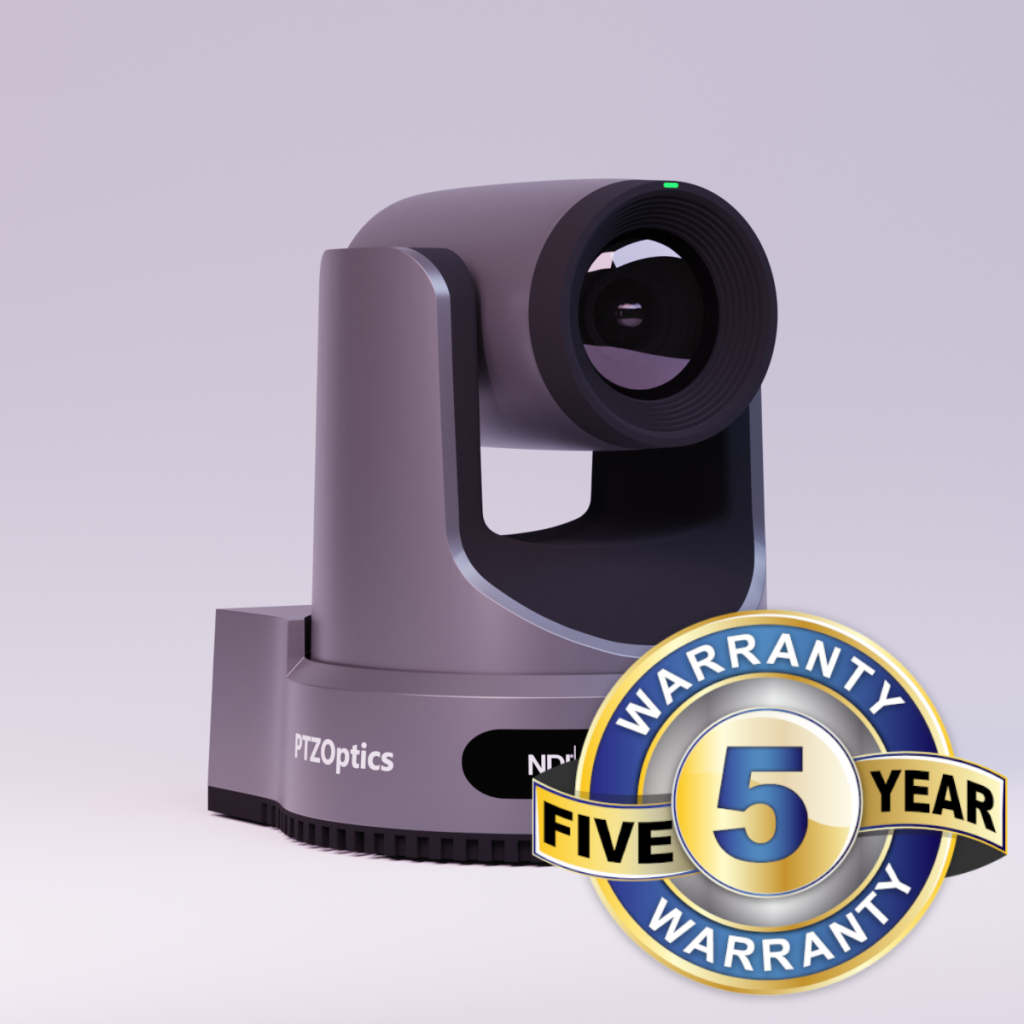 With robust warranties included as standard on every product, you can trust PTZOptics solutions to deliver high performance from day one, and for many years to follow.
PTZOptics cameras come with 5-year limited parts and labor warranty. PTZOptics stands by our promise to protect your investment by providing repairs or replacement products for the duration of your warranty. For more information, view our complete warranty documentation here.
Unparalleled Value, Award-Winning Support
When you reach out to PTZOptics for support, you won't get an automated system — you'll get a team of in-house, US-based experts ready to help. Connect with us via: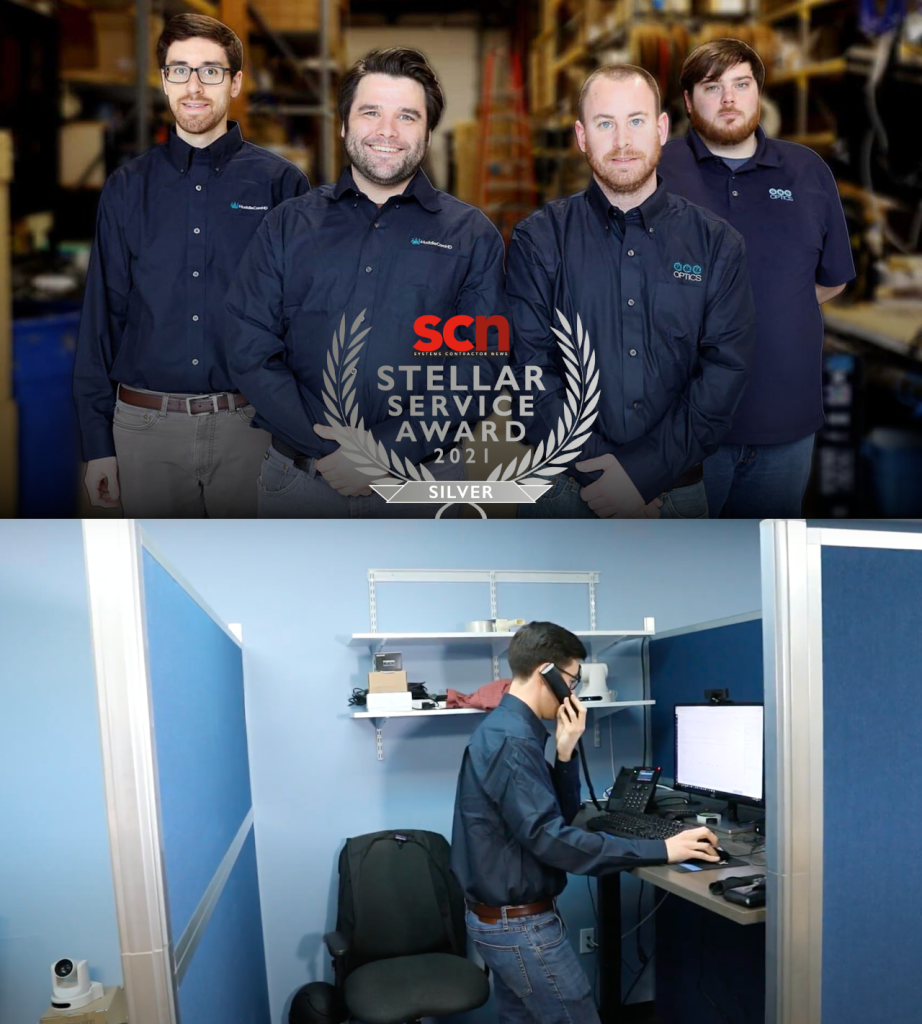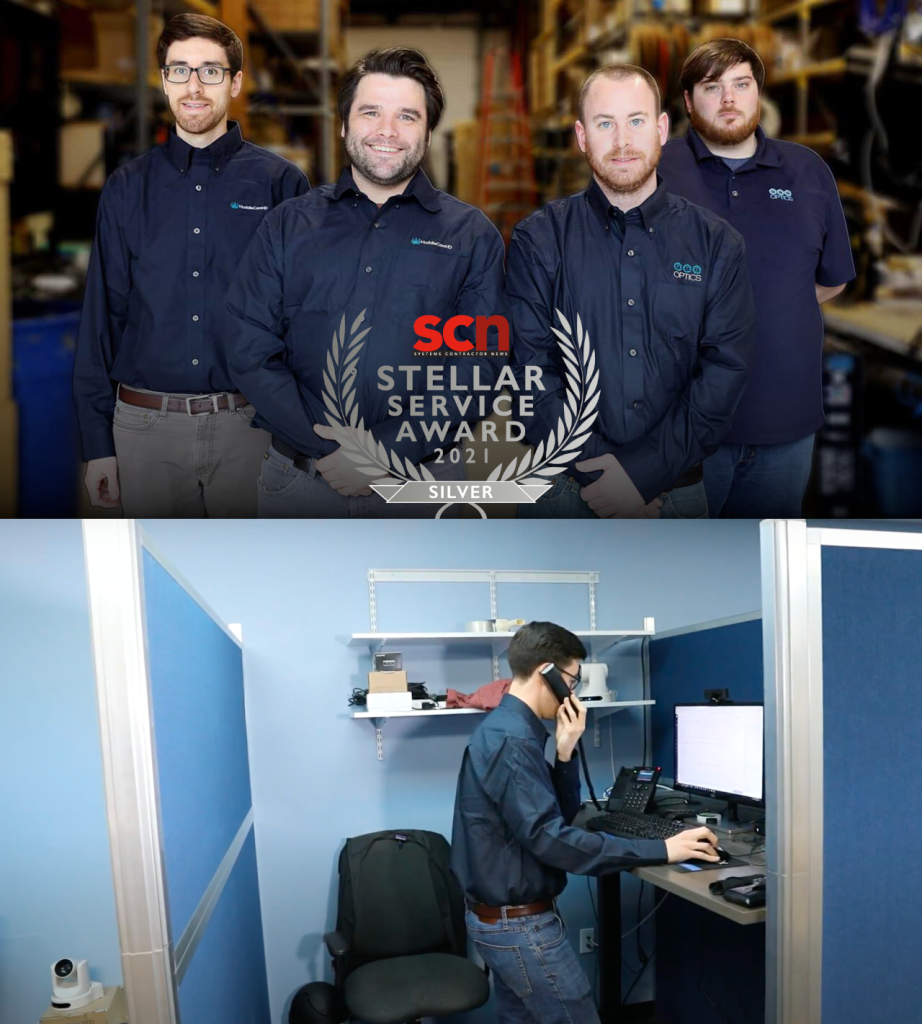 © Copyright 2023 | PTZOptics | All Rights Reserved.