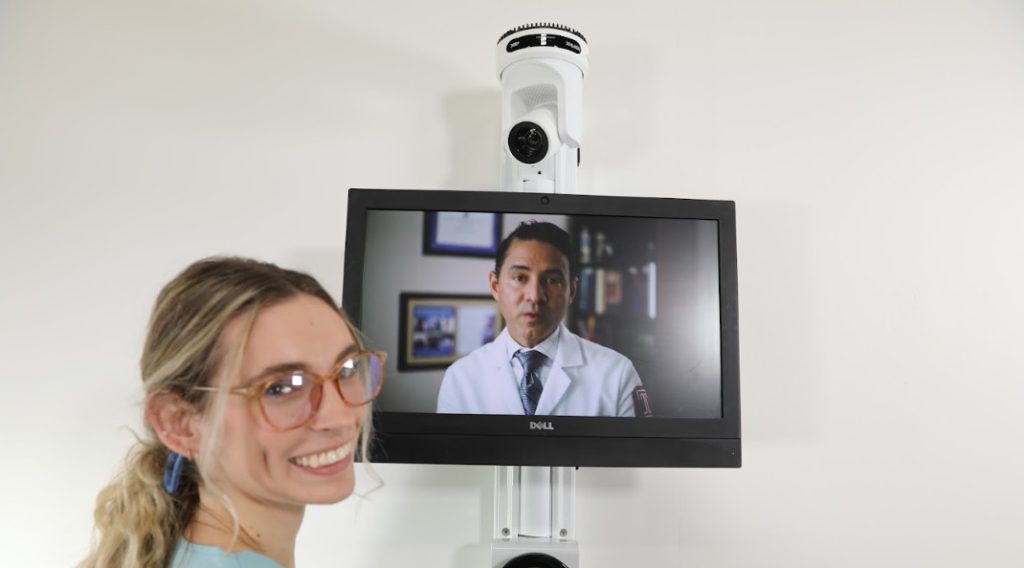 Helping to Transform Healthcare
PTZOptics provides state-of-the-art camera solutions for healthcare organizations. PTZOptics provides intuitive Far-End Camera Control (FECC) used by healthcare specialists involved in telehealth. The robust features and competitive pricing of PTZOptics' cameras make it an ideal choice for telehealth applications. A key aspect of PTZOptics' value proposition is the use of Universal Video Codec (UVC) camera control protocols which enable FECC for the majority of HIPPA-compliant real-time communications software. UVC along with the support of other industry standards provides seamless integration into software such as Zoom, VSee, and others providing HIPAA-compliant solutions that provide direct pan, tilt, and zoom controls for remote healthcare specialists.
Additionally, PTZOptics offers camera management software – that allows clinicians and doctors to instruct the camera to zoom into an area of interest with a simple click. This remote camera control capability is exceptionally beneficial for more precise visual examinations in telemedicine.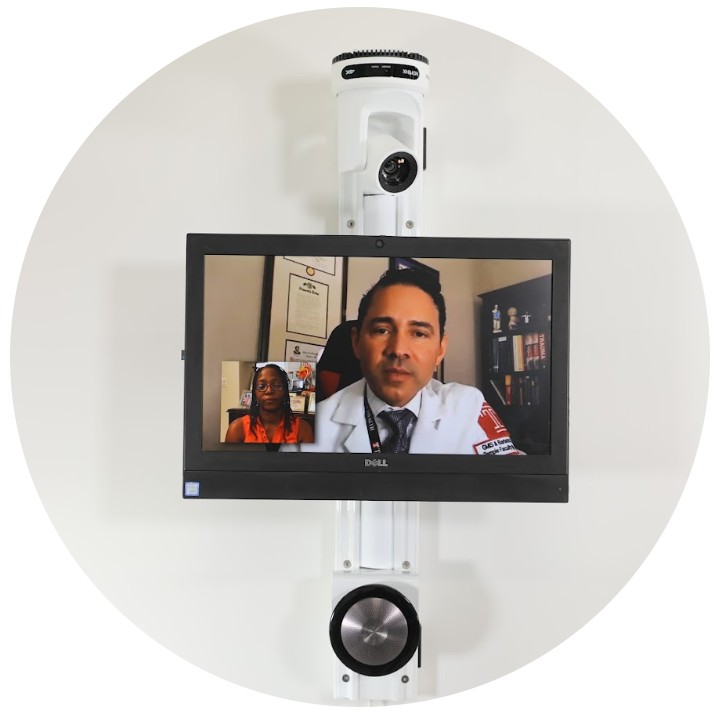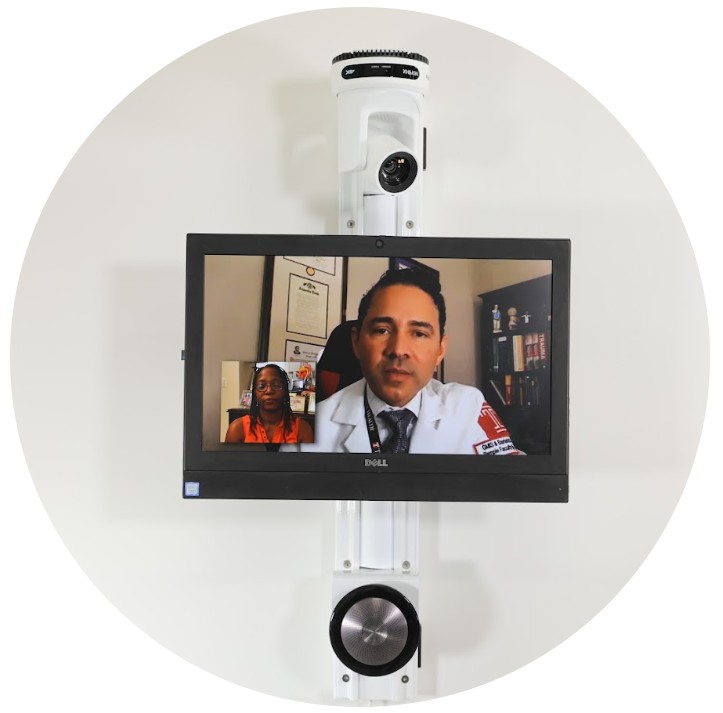 Video-enabled Patient Rooms
A growing number of healthcare practitioners are leveraging PTZOptics PTZ cameras and StrongArm's Mounting solutions to improve telehealth consultations. They trust the stability and reliability of these systems, ensuring that the vital technology employed during such interactions remains securely anchored and operational.
Enhancing Diagnoses and Patient Care Across Distances
Interhospital communication, encompassing doctor-to-patient and inter-departmental correspondence, forms an essential backbone for telehealth operations. This crucial sector of healthcare is now being significantly enhanced by PTZOptics' state-of-the-art pan, tilt, zoom (PTZ) cameras, as well as Strongarm Healthcare's custom-designed mounting solutions. These advancements facilitate everything from comprehensive examinations to urgent conferencing calls, bolstering the accuracy of diagnoses and optimizing patient care, irrespective of geographical constraints.
The Move SE
Starting at just $999, the Move SE is a perfect camera for your next video project.
The SuperJoy
Remotely control all of your PTZ cameras with the award winning PTZOptics SuperJoy.
Integrations for modern healthcare
PTZOptics offers integrations with some of the most popular video tools in the world. 
Camera Controls For Professionals
In the realm of telemedicine, control and precision are paramount. PTZOptics acknowledges this critical need with its groundbreaking Precision Far End Camera Controls (FECC). This innovative feature is a game-changer for healthcare professionals who rely on telehealth technologies to provide top-tier patient care.
PTZOptics offers a Camera Management Platform (CMP) capable of advanced pan, tilt and zoom (PTZ) camera configurations. Our CMP software allows your team to easily manage PTZOptics cameras to fine-tune important camera control settings such as pan/tilt limits, pan/tilt/zoom speeds and much more.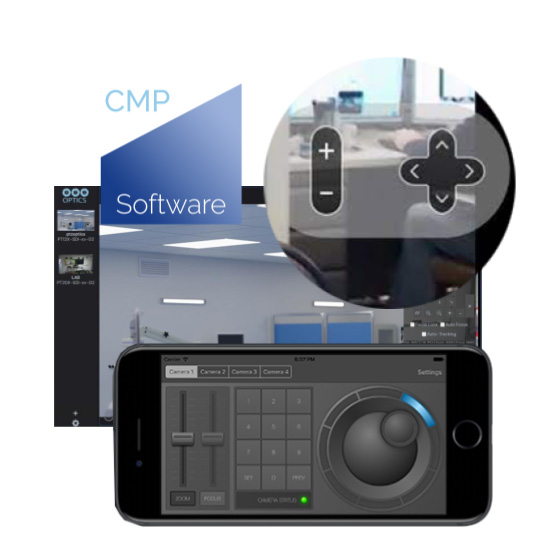 Precision Image Rendering For Telehealth
Healthcare professionals can optimize image quality in telehealth sessions with built-in image rendering tools from PTZOptics. PTZOptics cameras can automatically calibrate the camera's white balance to the room's lighting conditions, ensuring accurate color reproduction and clear visual details essential for remote diagnoses and patient consultations. This one-click solution provides healthcare professionals with reliable, high-quality visuals, streamlining the telemedicine experience and enhancing patient care.
Beyond one-click setup options, PTZOptics offers advanced color correction tools ideal for creating accurate to life image renderings for healthcare. 
Accurate Diagnoses

Enhanced Patient Engagement

Effective Monitoring

Improved Decision-Making

Professional Education and Collaboration

Patient Confidence and Satisfaction

Compliance and Record-Keeping

Technological Efficiency
Ensure patient privacy and address a fundamental concern in telehealth. When activated, this feature automatically pivots the camera to face the wall, effectively "blinding" it to any activity in the room. This simple yet effective solution ensures absolute privacy for patients during their most vulnerable moments, as the camera cannot record or transmit any imagery while in this standby state.
Not only does this feature safeguard patient confidentiality, respecting legal and ethical standards, but it also reinforces trust in telehealth processes. Patients can have peace of mind knowing that their privacy is a priority and is protected even in the realm of virtual healthcare. With a straightforward activation process, healthcare providers can easily implement this feature, making it an integral part of their patient privacy protocols.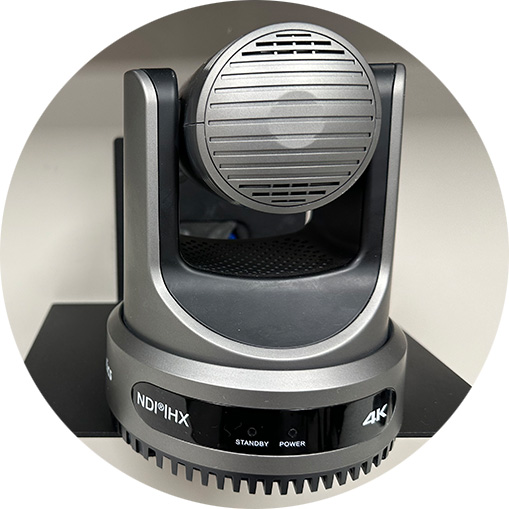 See how easy it is to remotely control PTZOptics cameras with Zoom
Far End Camera Control (FECC) ready
Universal Video Codec (UVC) integrated
Built-in Zoom Video Conferencing Support
HIPPA-compliant through approved video communications vendors
Modern Healthcare Workflow Examples
Many healthcare systems have a need for telemedicine support but cannot equip every patient room with the necessary equipment equipment. In these cases, a mobile cart can be used to bring the video-enabled equipment to areas where telemedicine is needed on demand. The example system here uses an Intel NUC computer with a PTZOptics USB-connected camera. The NUC runs a HIPPA-compliant version of Zoom and the PTZOptics USB camera supports far-end camera control for doctors to operate the camera from their remote locations.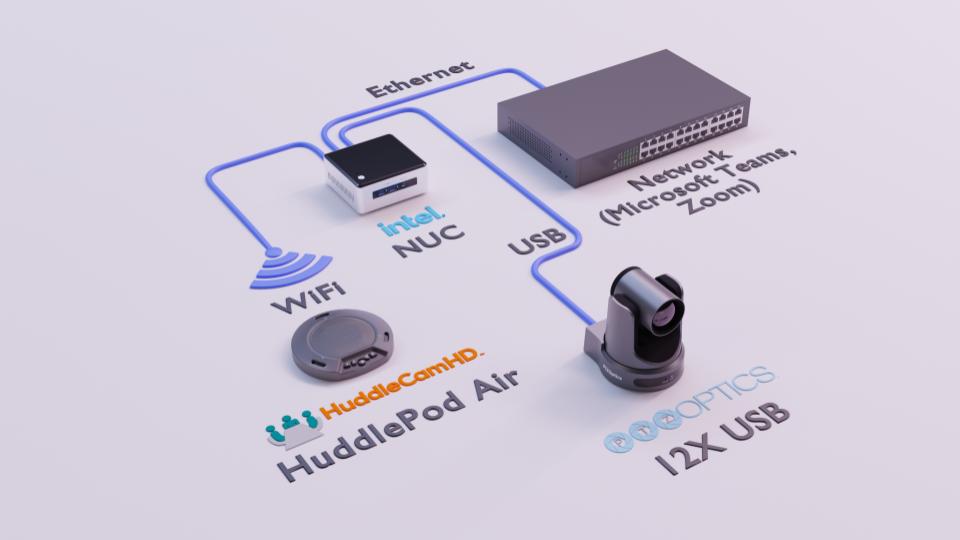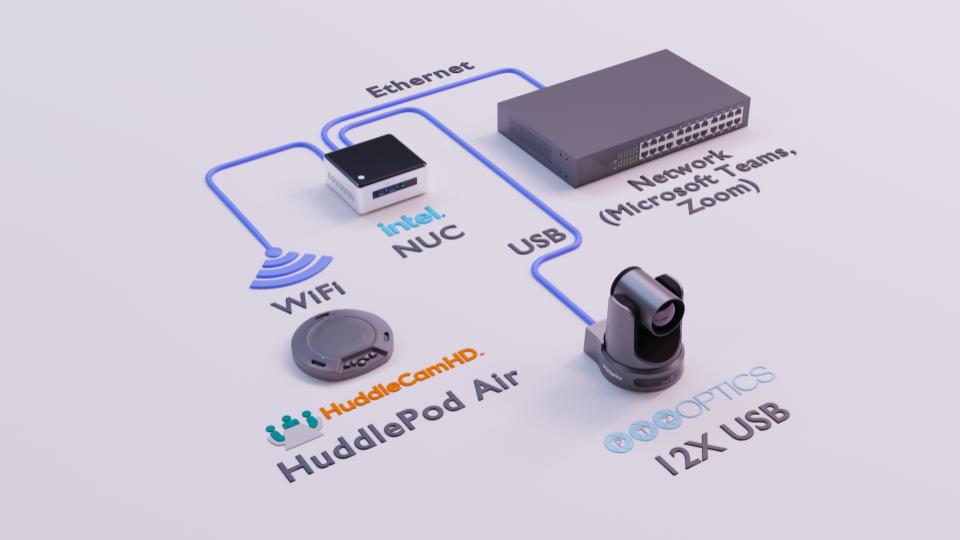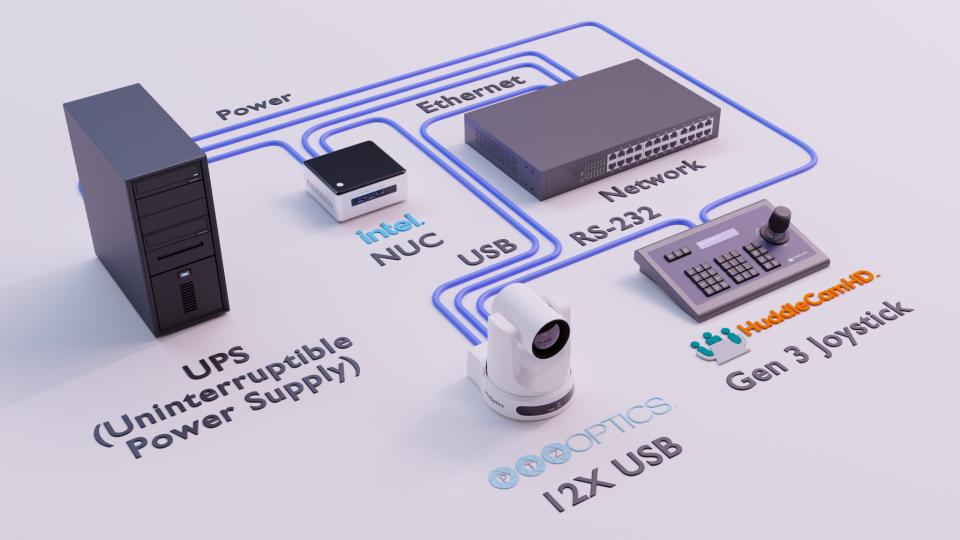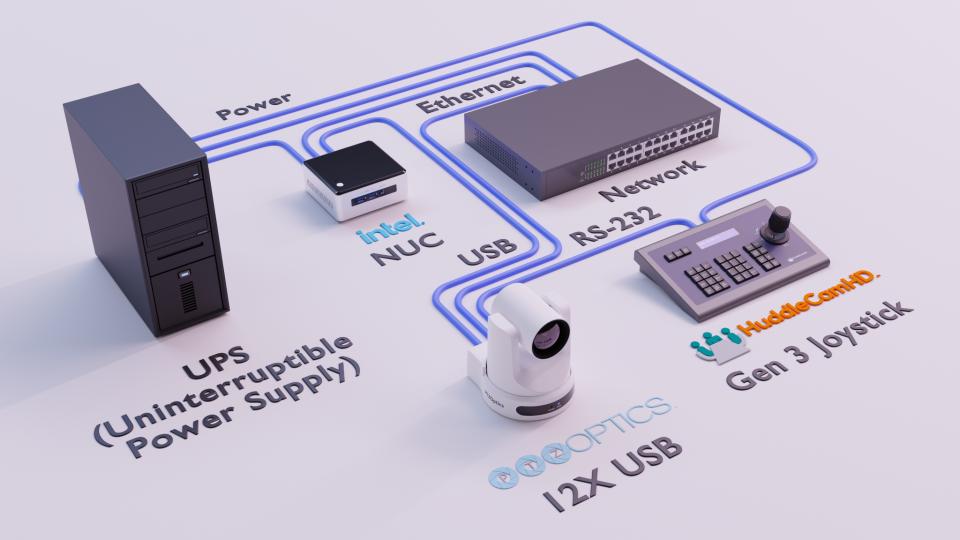 Inside healthcare facilities, the need for meeting spaces to be equipped with video communications equipment has grown. There are multiple rooms with LCD displays for presentations and the example here shows the video conferencing equipment layout. A USB-connected PTZOptics camera is being used for its wide-angle lens to capture all people in the meeting room. Video calls range from Cisco WebEX to Zoom and the system will work with any video meeting software including Microsoft Teams. 
This system is designed for recording video content for educational purposes. This system includes three cameras to create a professional-looking video inside a surgical recording space. The cameras are connected to a video production system operated by a video producer. All 3 cameras are controlled by a PTZOptics SuperJoy during live webinars and special events.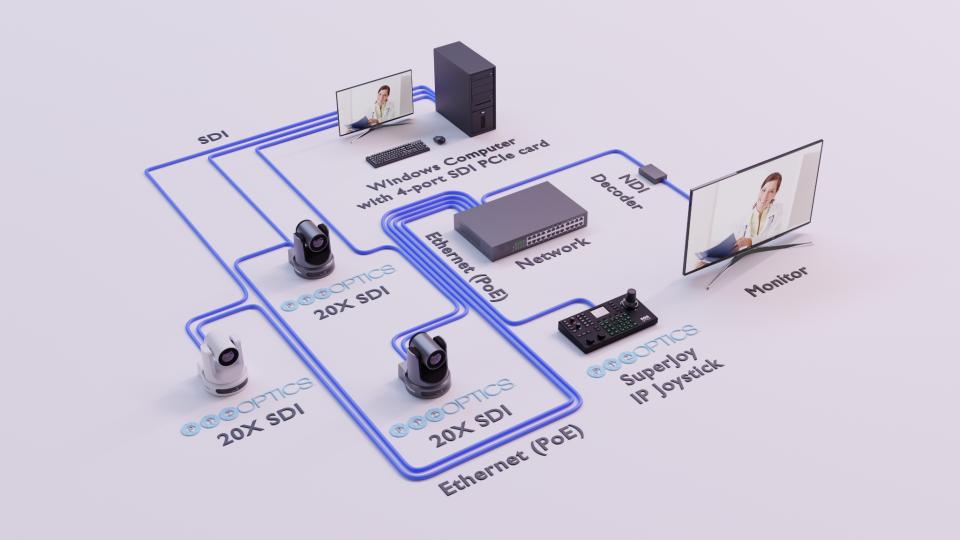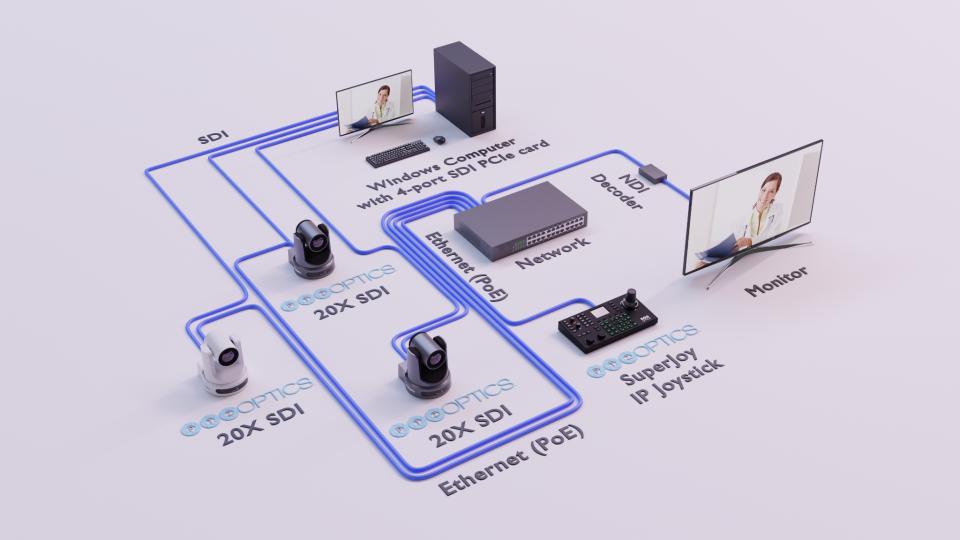 Mobile telemedicine solutions
Recent evolutions in technology have enhanced the way healthcare is delivered. Today, the field of telemedicine enables physicians to treat their patients via video conferencing. Such convenience and accessibility to healthcare have helped many, including patients in rural areas without access to in-person medical facilities. In this video, we are going to take an in-depth look at a telemedicine cart designed by Howard Medical which features a PTZOptics camera used to help doctors deliver healthcare remotely.
The Hi-Care telemedicine cart is an innovative solution. This mobile system has a flexible design and provides users the ability to communicate in a customized way, meeting the needs of the healthcare facility. The Hi-Care also includes remote monitoring and remote management software.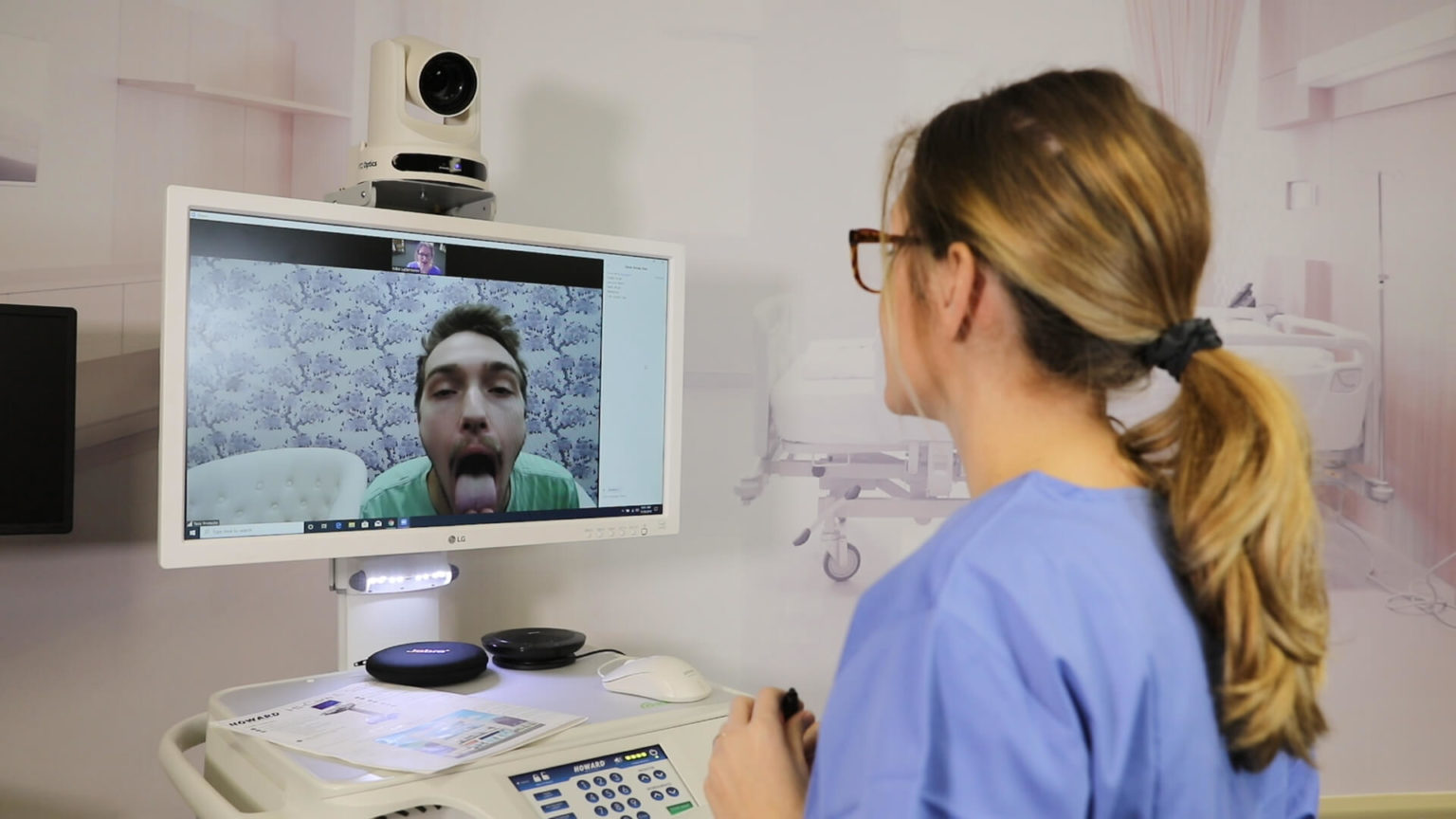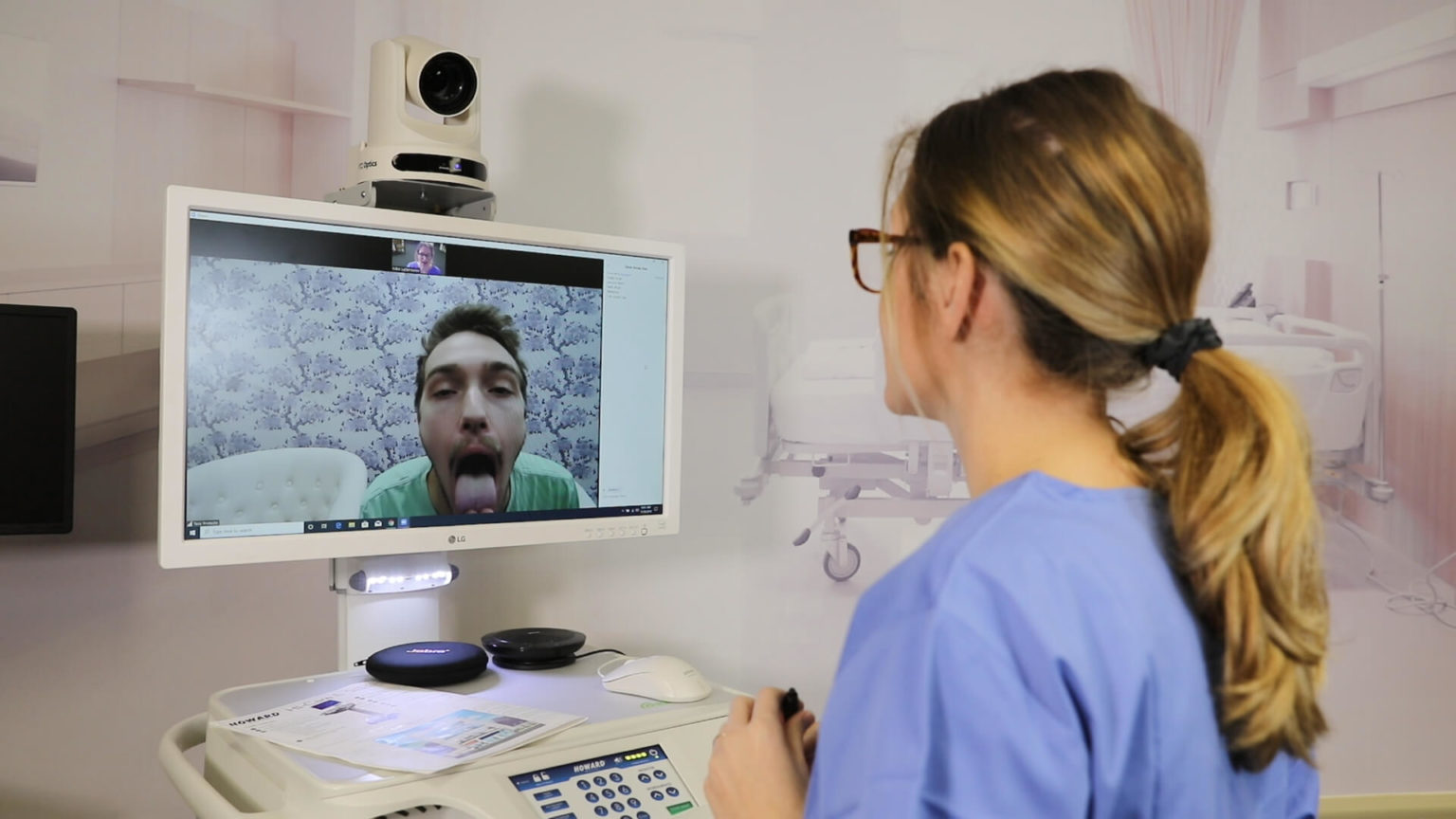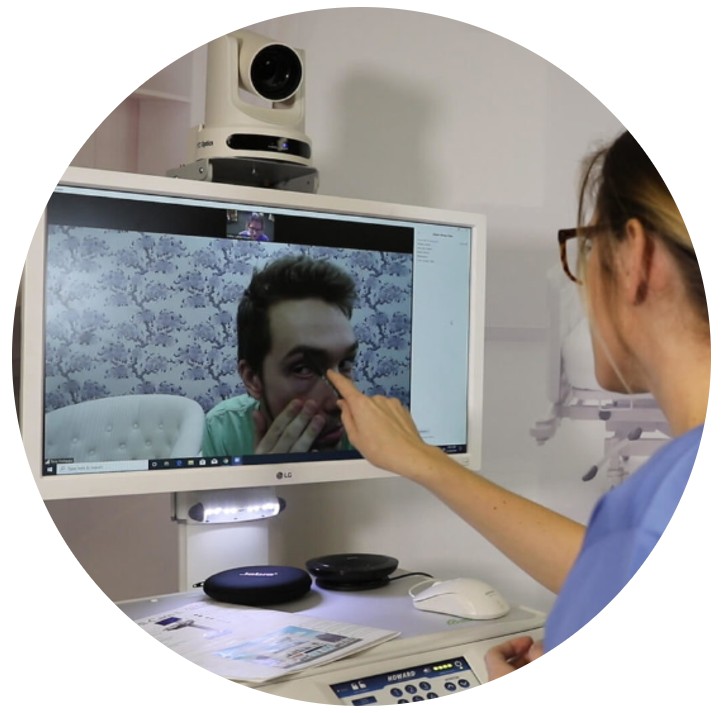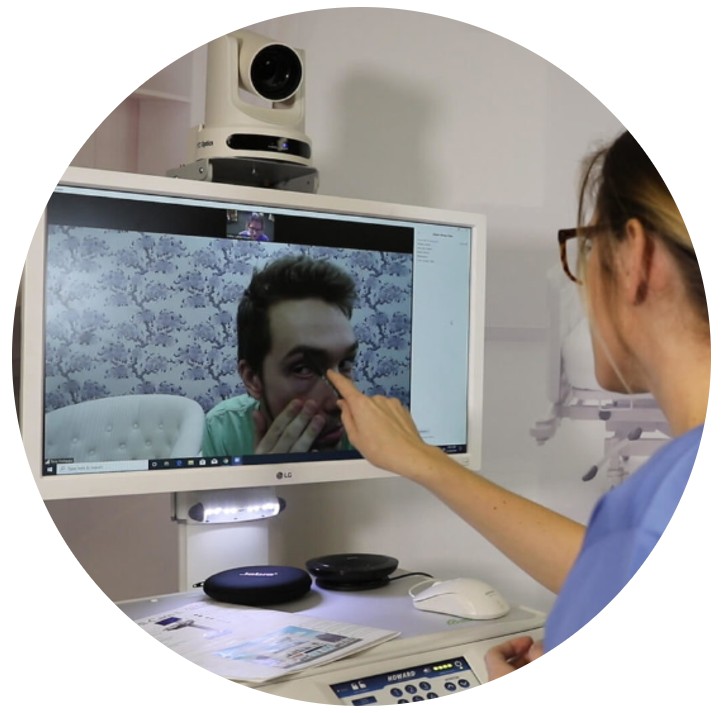 Howard Medical is a company on the front lines of this emerging field, and their telehealth products are rapidly transforming the healthcare delivery system. Howard's telehealth equipment provides all-in-one solutions, linking physicians to their patients seamlessly. These products range from telehealth carts, software, and kits to cabinets and kiosks.
A task light;

One-touch height adjustment for both the monitor and the work surface;

Anti-microbial touch surfaces;

A centralized control panel

Adjustable steering handles

A 270-degree wrap-around cart handle

A negative tilt keyboard tray with wrist rest and a keyboard light

Rubberized footrests

On-demand steer assist technology

Storage options; and

A PTZOptics camera, which allows a physician to remotely zoom into specific areas of interest in high definition.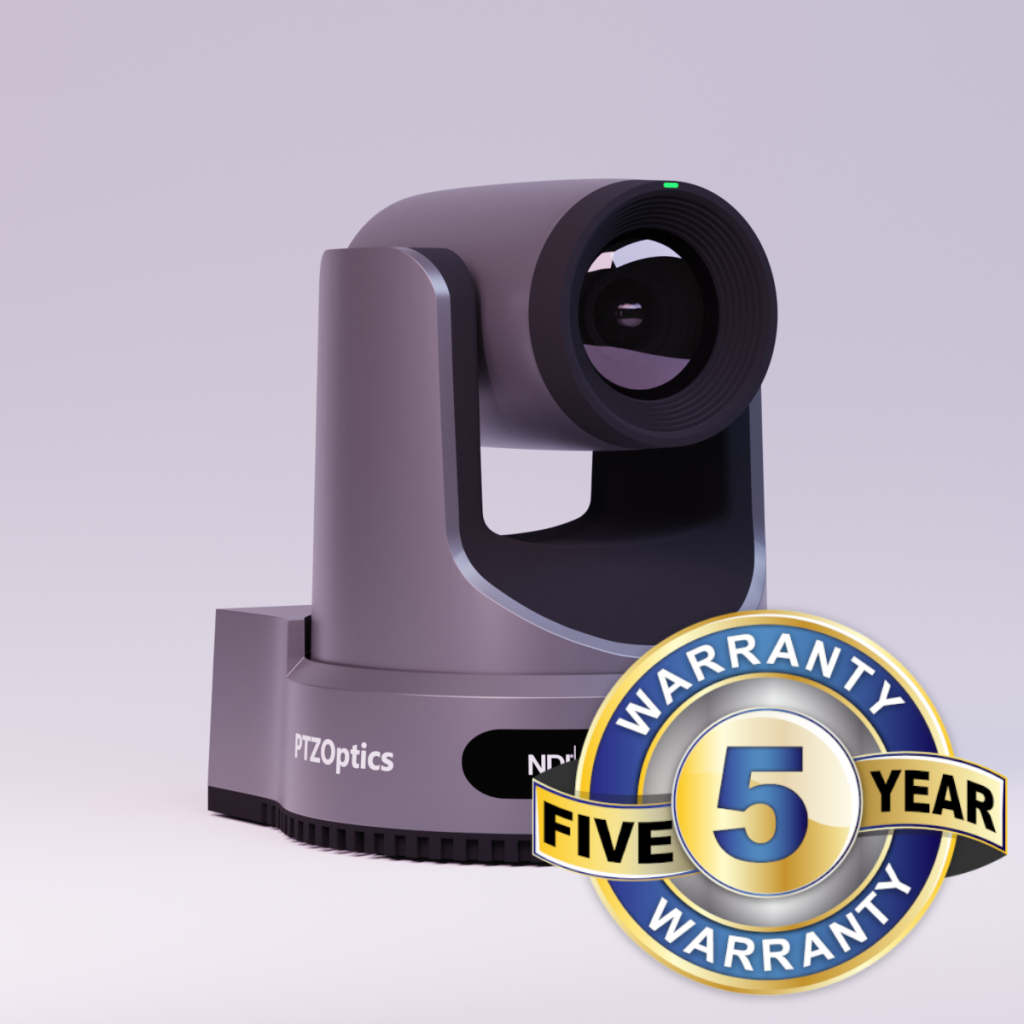 With robust warranties included as standard on every product, you can trust PTZOptics solutions to deliver high performance from day one, and for many years to follow.
PTZOptics cameras come with 5-year limited parts and labor warranty. PTZOptics stands by our promise to protect your investment by providing repairs or replacement products for the duration of your warranty. For more information, view our complete warranty documentation here.
Unparalleled Value, Award-Winning Support
When you reach out to PTZOptics for support, you won't get an automated system — you'll get a team of in-house, US-based experts ready to help. Connect with us via: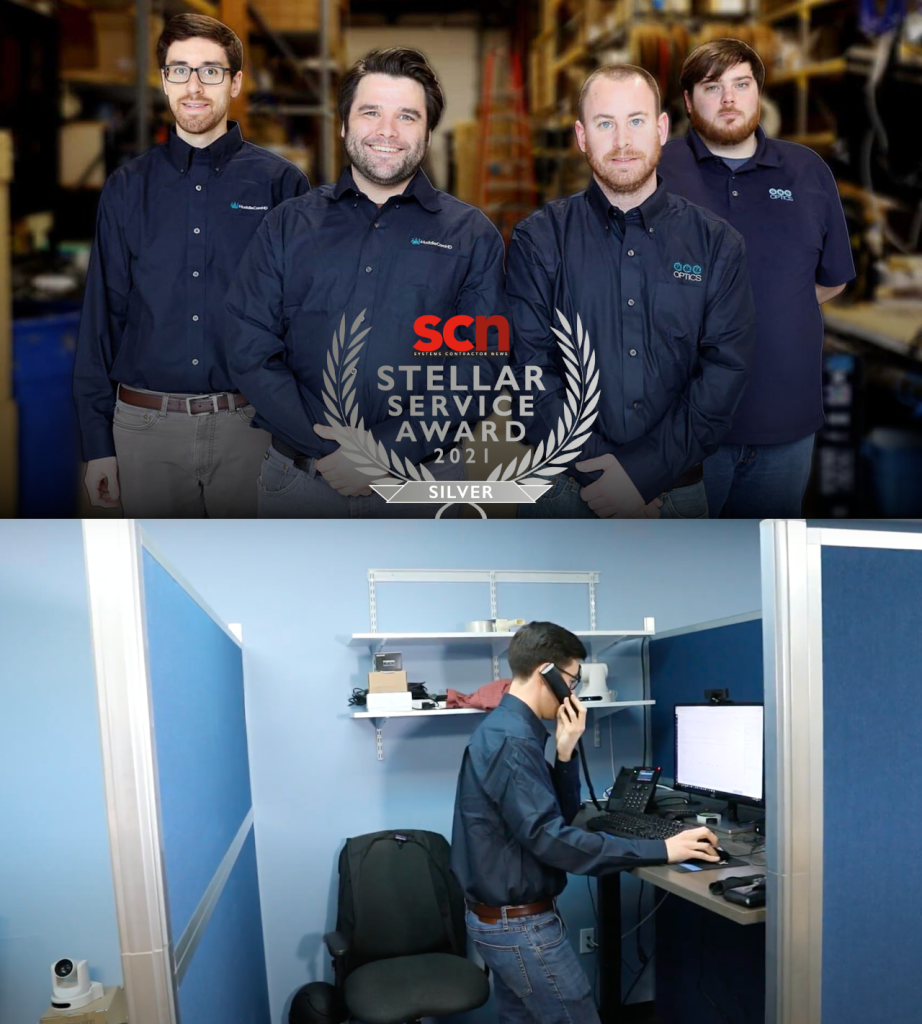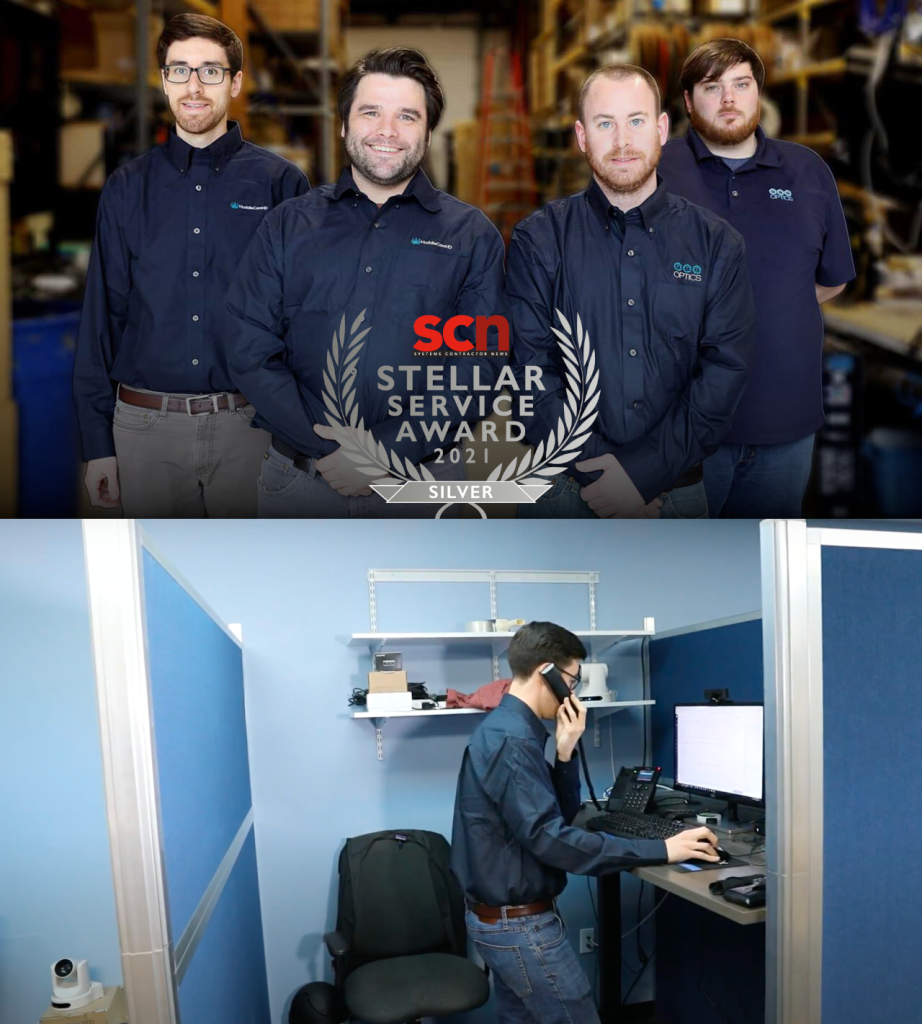 Ready to start your next telehealth project? Reach out now and let's enhance healthcare together
© Copyright 2023 | PTZOptics | All Rights Reserved.