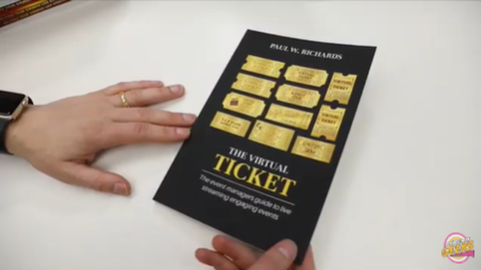 Learn how virtual tickets can make
any event more profitable
The Virtual Ticket is for anyone who wants to host next-level, engaging experiences for online attendees. This book is full of detailed case studies from innovative event planners who are diversifying their revenue streams with virtual ticket sales. Whether you are a business, sports team, non-profit, event venue, or a garage band, this book includes everything you need to know about planning live streams that provide audiences with experiences worth paying for. Adding a virtual ticket option for your next event does more than increase profits. Virtual tickets help expose events to global audiences by increasing convenience and accessibility with new broadcasting and translation tools that are now available.
The Virtual Ticket by Paul W. Richards is a practical, how-to guide for anyone looking to make their mark in live streaming. Its concise, informative, and authoritative approach to the topic makes it a must-read for those starting out on social media.
As a content creator who is trying to get a foothold in the Internet business, this book could not have come at a more appropriate time. Divine providence, maybe? I'm still a little wet behind the ears. I've already released a few podcast episodes, and two vlogs on YouTube and have yet to release a "live" version of something.
Highly recommended if you're starting out in content creation. It's important to know that the real money will be in live-streaming…this book is essential reading.
Mr. Richards provides precise details on equipment handling in a very accessible way. Even if you've never studied theater, you'll still find yourself engaged and informed. He also provides excellent marketing strategies to get the word out before the event happens. The writing feels very textual, but it's a short read backed up with images and graphs that drive the lesson home.
Loved the book! Since the Coronavirus I've been thinking of ways to offer virtual events to help ease social distancing and give the world another source of entertainment. This book was right on time! I always wondered why in some streaming events, the speakers mouths don't match their words. It was cool to learn that this is something that can  actually be adjusted. I'm not an expert but I feel I have gained enough knowledge to speak intelligently when trying to help someone fix  issues or, to at least point them in the right direction. Thank you for sharing!!